Five Quick and Easy Red, White, and Blue Desserts 
As Memorial Day approaches and we think about honoring the men and women who gave their all for our country and us, what better way to show your support than making a dessert that shows off your American pride! Dazzle and WOW your guests or bring one of these simple and quick desserts with you to celebrate Memorial Day this weekend. Enjoy!
Red, White, and Blue Covered Pretzels
This simple and easy treat can be made in a flash and you only need three ingredients.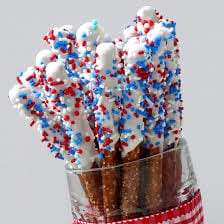 Ingredients:
1 Bag of Pretzel rods
1 bag of white melting chocolate
1 container of red, white, and blue mixed sprinkles
Lay out parchment or wax paper to put your pretzel rods on to allow to dry.
Melt your white chocolate in a deep bowl to allow your pretzel rod to get as coated as possible.
Pour the sprinkles into a deep bowl.
Coat your pretzels with the white chocolate and then sprinkle on your patriotic sprinkles.
Place the pretzels on the parchment paper and allow to cool completely.
Store them in the refrigerator until ready to eat.
*If you don't have a deep bowl, not to worry you can hold the pretzel and use a spoon to scoop the melted chocolate on to the pretzel and the same for the sprinkles.*
Patriotic Rice Krispie Treats
Who doesn't love an ooey gooey rice krispie treat?  Quick, simple and delicious!
Ingredients:
1 box of Rice Krispies
1 bag of mini marshmallows
2 Tablespoons of butter
1 bag or white melting chocolate
Red and blue food coloring
Red, White, and blue sprinkles
Make your rice Krispie treats according to the box directions. 

Put them on a cookie sheet or inside a 9×9 pyrex. Try and make a rectangle as best you can. 

Once cooled and ready to cut, create smaller rectangles or squares.

Lay out parchment paper. Place sprinkles in a bowl.

Melt white chocolate and then separate into three bowls. So you will have white, then add red food coloring to make red and in the third bowl have blue food coloring to make blue. (Add in a few drops at a time until you get the red and blue color you want) Stir after each addition of food coloring.

Dip your rice krispie treats in the three different colors and sprinkle on some sprinkles. Allow to dry on the parchment paper.
Fruit Flag Skewers
This yummy treats presentation is one of our favorites! Nothing makes you more proud and patriotic than an American Flag. 
Ingredients:
1 container of blueberries
1 container of strawberries
1-2 Bananas *or 1 bag of marshmallows
12 Skewer sticks 
Pick out a favorite dish, tray or disposal pan to build your flag. 

Cut up your strawberries into halves  and your banana into round pieces. (If using marshmallows no prep is needed for them)

You will use about 12 skewers, but on the first 6 you will push your blueberries about half way on the skewer stick. 

Then you will alternate banana (or marshmallow) and strawberry. 

The additional 6 skewers you will just alternate strawberry and banana (marshmallow)

Once they are all complete you can build your flag starting with the six that have blueberries and then the additional 6 remaining. 
Pretzel and Fruit Flag
A little twist on the fruit flag by adding a little crunch with a pretzel! 
Ingredients:
1-2 containers of strawberries
1-2 containers of blueberries
1 bag of white chocolate 
You will need a platter and a small bowl to build your flag.

Wash blueberries and strawberries and cut the strawberries in half.

 Place the blueberries in a bowl and then alternate the pretzels and strawberries to create your flag. 
Ice Cream Sandwiches with American Pride
A nice cool treat with a little American pride! This is the simplest dessert and a sure win all around. 
Ingredients:
1-2 boxes of ice cream sandwiches
1 container of red, white, and blue sprinkles
Simply unwrap your ice cream sandwiches and dip all four sides in the sprinkles. 

Place back in the freezer until ready to eat. 
Enjoy these quick, simple, and delicious treats as you honor the great men and women who served our country.