Meet-a-Mom Monday: Stacey Amy 
Meet this amazing local mom, Amy! She makes the most stunning and delicious cakes around.  However, her talents don't end there, she also coaches the Local Girls on the Run team in Jackson.  Read more about her below and how/where you can order up your next delicious cake or involve your girl in, Girls on the Run!
Where are you from originally and how long have you lived in town? 
I am from South Amboy, I have lived  in Jackson since 2005
Child(ren) and Age(s)? 
Olivia 12 and Addison 10
One thing people would be surprised to know about you.
I only started making custom cakes 6 months ago.
Anyone special you'd like to thank for helping you through parenthood? 
Any and every mom that gave me any single piece of advice. But, I have to thank my husband the most…. having two kids 18 months apart was a blessing and a whirlwind.
Favorite things to do with your kids? 
We absolutely love going to the Manasquan Inlet beach every summer. I've been going since I was young. It's our "spot".
Are you involved in a business venture, a local organization, a creative endeavor, or in the corporate world? Please share! 
Yes… currently involved in a small business venture creating memorable "loaded" cakes. I also coach our local Girls On The Run team.
I started making cakes in December. I first made a cake for my daughter for her 10th birthday. It was during COVID and unfortunately she couldn't have a big party or a party at all so I wanted to make her something special. I made her cake and posted pictures on Facebook. My neighbor then asked me to make a cake for her daughter which I thought she was kidding. I made her one and it just took off from there. I stated seeing people liking and loving the cakes. A friend asked me to make a cake for her son, which he decided on an ice cream cake instead. I asked her can I make him one for no charge…. all I ask is that you help me reach more people. And she did! The Loaded Cake was born and I've made over 100 cakes since December. I truly love the response the cakes are getting. I love helping people making their very special day that more special.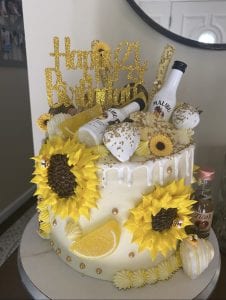 As far as GOTR… my daughter joined a few years back and had a fun time. When the then coach said she couldn't do it anymore… I decided to take over coaching. It's been such a fun experience. The girls are so great. They have so much fun and really learn how to be more confident. And, how to handle adverse situations by stopping and thinking before they react, all while doing running activities and ultimately running a 5k at the end. They are so proud of themselves. It's such a great program. GOTR is only for girls in 3-5 grades. They have another program for girls in middle school.
How has this community been instrumental in getting you to where you are now? 
I can't thank our Jackson community enough for all the love and support for my cake business…. The Loaded Cake.
What is your favorite restaurant in Ocean County? 
Marina Grille
What is your favorite activity to do with your child(ren) in Ocean County? 
We enjoy Popcorn Park Zoo.
What are your Mom Goals? 
To make sure that no matter how far my girls are from me that they always have a place to come back to.
Contact: