Meet Karen Kupfer
Meet this great Ocean County Mom who is a speech pathologist, but also has many other talents up her sleeve! Read all about her, her works, and all the amazing things she is doing for her community and others.
---
Where are you from originally and how long have you lived in town?
I am a Brooklyn New York Girl. I lived in Monmouth County for 30 years and have lived in Ocean County for 5 years.
I have a son Kyle who is 32 and a son Jake who is 25
One thing people would be surprised to know about you.
I love to do Zumba and photograph anything I can! I love photographing as a way to keep my memories close and share photographs with friends and family. I will soon be having Zumbini classes from birth to 4 years of age. I start drum lessons soon!
Anyone special you'd like to thank for helping you through parenthood?
My mom who recently passed away with Alzheimer's was a great mom who showed me what it means to be a caring, loving mom and to always be independent and able to take care of myself across the board.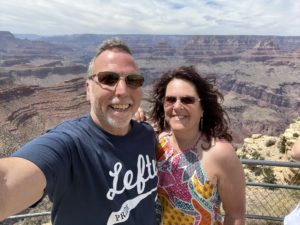 Favorite things to do with your kids?
Really anything! I love to spend time with them, to talk, laugh, dine, travel, and go on adventures. I enjoy discussions about their plans/dreams/ideas/sharing knowledge & assisting them in whatever endeavor they are thinking about.
Are you involved in a business venture, a local organization, a creative endeavor, or in the corporate world? Please share!
I love being a Speech language Pathologist and helping others find their voice to communicate. "Communication Keeps Us Connected"! I also find joy in acting as a resource for my families. Connecting them with any professionals, services or products that can improve their lives. I am so thankful and grateful for my staff at MidState Therapy Associates. 
I am soon to be opening a 2nd office in Ocean County and expanding my Manalapan Practice to include wellness & therapeutic products as well as services. I am an advocate in the areas of mental health, substance use disorder & suicide prevention. MidState Therapy Associates will have a team-Be Here Now-at the American Foundation for Suicide Prevention Walk at BarAnticipation on September 24th. Find me on Facebook or my website if you have an interest in joining us or donating. I recently walked in Seaside for The Hope Sheds Light organization on September 10th to raise awareness and money for individuals and their families that are dealing with substance use disorder. I always want to give back and do good for the causes that I'm passionate about. On a creative note, I am working on a children's book and an invention.
I am a partner with Pure Haven, a company that has a mission to truly remove toxins from our lives. I also am a partner with Juice Plus, a company that has aeroponic Tower Gardens that allows growing of vegetables, lettuces, herbs, fruits and flowers inside the home or outside and whole food nutrition in a capsule.
How has this community been instrumental in getting you to where you are now?
We love our Manalapan and surrounding communities. We have been members of the community for 22 years, offering our services, connecting with clients and their families, schools, daycares/preschools, doctors, and other related professionals. We will be soon offering some panel discussions for our community and look out for our open house to introduce our new location in Manalapan. We are very grateful to the community and our wonderful clients and their families.
What is your favorite restaurant in Ocean County?
Mrs Walkers Ice Cream "Eat dessert first" I like C & G's.
What is your favorite activity to do with your child(ren) in Ocean County?
Going to the beach and visit light houses.
I have been blessed with 2 happy, loving, independent sons. Continue to be supportive, share our lives and the joy between a mom and her sons.
---