Where are you from originally and how long have you lived in town? 
I grew up in Colts Neck and headed down South to North Carolina for college and graduate school. When I graduated UNC Chapel Hill with my master's degree in Speech and Hearing Sciences, I was determined to head back home to NJ. A professor encouraged me to apply for a position at the Center for Autism and Related Disorders at Kennedy Krieger Institute in Baltimore, MD. "I really think you're making a mistake," she told me, "I feel like this would be a great fit for you!" Sure enough, she was right, and it changed the entire course of my life! I moved to Baltimore in 2014 to start my career as a speech-language pathologist, and there I stayed for 7 amazing years. I met my husband in 2015 and we finally made our way home to NJ this past spring, with a baby in tow!
Our daughter, Caroline, is 14 months old!
One thing people would be surprised to know about you.
I hiked an active volcano! (It's true!) When I was attending UNC, we went on a clinic trip to Guatemala. Between providing in services for university students and staff, volunteering at special needs clinics, and helping to build gardens, we got to explore the amazing scenery… which included Volcán Pacaya, a volcano that has erupted 23 times since the 16th century. The hike was much more strenuous than we originally thought but making it (safely) to the top was an incredible experience.
Anyone special you'd like to thank for helping you through parenthood? 
My family. I'm so lucky to be a part of a big, loud, incredibly supportive family and I know there is no way we could have navigated becoming new parents (in a pandemic,) without them! Through every stressful turn, every unknown, they are always there. Between driving 3 hours for surprise socially distanced visits when I was pregnant and quarantined, helping us move, helping with childcare… they are the true embodiment of, "it takes a village," and we are incredibly grateful.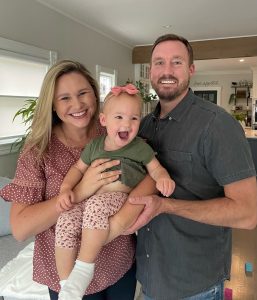 Favorite things to do with your kids? 
We love reading books, singing, and making forts to climb on and under! Caroline is at such a fun age right now where everything is new and exciting! She brings us books and excitedly says, "more! more!" as we look at the pictures and talk about what we see. I'm trying to soak in every minute of this stage!
Are you involved in a business venture, a local organization, a creative endeavor, or in the corporate world? Please share!
 I'm a pediatric speech-language pathologist, and the owner of Ascend Speech Therapy, LLC! I started Ascend with limited hours on the weekends when I lived in Baltimore, still working full time for the Center for Autism and Related Disorders at Kennedy Krieger Institute. I fell in love with Private Practice, and when my family and I relocated to NJ, I brought Ascend with us! I'm thrilled to now serve our Ascend families full time.
I provide in-home speech-language evaluations and speech therapy for children of all ages in Monmouth and Ocean Counties. I also provide teletherapy for all of NJ and Maryland! Though my specialty area is Autism Spectrum Disorder, I work with children with all speech and language needs.
Recently, I launched a Parent Training Program via Zoom, "Ascend Together," to help parents feel more empowered to grow their little ones' language at home! This program offers families the chance to have 1-1 time with a certified SLP to learn tips and tricks to facilitate language development, and tailor a program to their specific child – even if their child has no language concerns! This has been such an exciting addition to our services, and I feel so lucky to be able to serve this need in the community! We have more exciting plans on the horizon, including play groups in the Spring and Summer… stay tuned!
My social media accounts (Ascend Speech Therapy on Instagram and Facebook,) share speech-language development facts, easy at-home activities, and favorite materials to help facilitate language development. I am passionate about helping families reach their communication goals. I believe therapy should be fun, research-based, and functional in your lives. I'm so excited to continue to serve the families of this community!"
How has this community been instrumental in getting you to where you are now? 
Becoming a parent in a pandemic is not something I had ever envisioned. Entering parenthood can be overwhelming enough, but to add in so much unknown was incredibly worrisome. I have found such support from this community from other moms and parents who have all banded together to help one another through this chaotic time. Even simple reminders of, "we're all in this together," go a long way these days! I'm so thankful to have this new support network as we all try to balance our new normal with enjoying every ounce of our little ones.